It's springtime in the Northern hemisphere, which means that nettles (Urtica dioica) are starting to pop up, or will be soon, in many of my old stomping grounds. Foraging nettles was one of my favorite spring traditions when I lived in Michigan.
These days, I'm fortunate enough to have a several large nettle patches I can harvest from year round, which brings me a great deal of joy. Nettles are one of my favorite herbs. They're nutrient dense — rich in vitamins A, C, D and K and minerals, like calcium, magnesium, potassium, and iron — and help to boost overall health.
These tasty sourdough crackers are one of my favorite ways to bake with nettle. They're buttery, salty, and satisfying — without all the crappy ingredients found in highly processed, store bought crackers.
To make these crackers, you will need a sourdough starter. If you're new to sourdough, check out this post to learn how to make your own starter.
Ingredients:
1 cup + 1 Tbsp white flour
1 cup sourdough starter
4 Tbsp butter
1/2 tsp salt + some extra to sprinkle on top of the crackers
1 cup fresh nettle leaves, finely chopped
Directions:
Add the ingredients to a bowl and knead to combine until the dough is smooth. Wear gloves when handling the fresh nettle and kneading the dough to avoid getting "stung". (Once baked, nettles will lose their sting.) Form a ball out of the dough and cover the bowl with plastic wrap or a silicone bowl cover. Let it sit 8-12 hours or overnight.
Very lightly dust a cookie sheet and rolling pin with flour. Smush the dough into a rough rectangular shape on the cookie sheet, then roll out with a rolling pin until it's about 1/16 inch thick. It's fine if the edges are a little rough and uneven.
Gently use a knife to slice the crackers into desired shapes. Sprinkle with sea salt and gently press the salt into the dough. Use a fork to prick little holes into each cracker.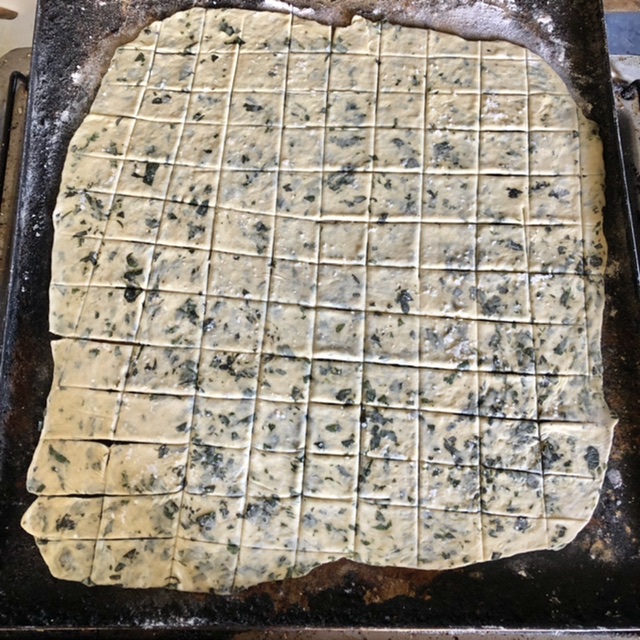 Bake crackers at 350°F for about 20-25 minutes or until the crackers are lightly browned. Check the crackers several times throughout the baking process and remove the crackers on the outer edges that are turning brown. Then return the pan and allow the remaining crackers to finish baking.
When crackers are done, remove them from the oven and let them cool. Store them in an air-tight container for a week or so, if they last that long.
Nettle crackers are a satisfying and healthy snack. Pair them with cheese or hummus, bring them to a potluck, or add them to a charcuterie board. We like bringing them on family hikes to munch while on the go.
---
References
Chevallier, Andrew. Encyclopedia of Herbal Medicine. 2nd ed., Dorling Kindersley Publishing, 2000.
de la Forêt, Rosalee. "Nettle herb." https://www.herbalremediesadvice.org/nettle-herb.html
Grieves, M. "Nettles." A Modern Herbal. http://www.botanical.com
mcdonald, jim. "Nettles, Oats, and You." Accessed via: http://www.herbcraft.org/nettles%20oats%20and%20you.pdf
Weed, Susan. Wise Woman's Herbal for the Childbearing Year. 1986.