These buckwheat sourdough pancakes are a healthier spin on a classic breakfast favorite. Buckwheat flour adds high-quality protein, minerals, and antioxidants. Sourdough fermentation boosts the availability of nutrients and improves the digestibility of the gluten.
Make the batter the night before and then it'll be ready to go in the morning for a low prep breakfast.
Ingredients:
1/2 cup sourdough starter
1/2 cup buckwheat flour
1/3 cup white flour
2 Tbsp panela
1/3 cup milk
1/3 cup water
1 tsp cinnamon powder
1/4 tsp salt
Makes 12 small pancakes
Mix flours, panela, cinnamon, and salt together in a bowl. Add the starter, milk, & water and stir til smooth. Cover the bowl with a cheese cloth and elastic or a silicone bowl cover. Let sit overnight.
In the morning, preheat a skillet. Oil lightly with a bit of ghee (clarified butter) and pour the batter out into small circles on the pan.
As the pancakes cook, the edge around the will become firm and bubbles will begin to form the in batter. When this happens, flip the pancakes over and let cook for another few minutes, until golden brown. Then remove from the skillet and repeat the process until you've used up all the batter.
Serve your pancakes with butter and a drizzle of real maple syrup (skip the fake stuff with all the additives and artificial flavors), diced fresh fruit, or jam.
Note: this makes the perfect amount of pancakes for our family of 3. If you have a few kids, older kids with big appetites, etc. you will want to double or triple this recipe so there's enough for everyone.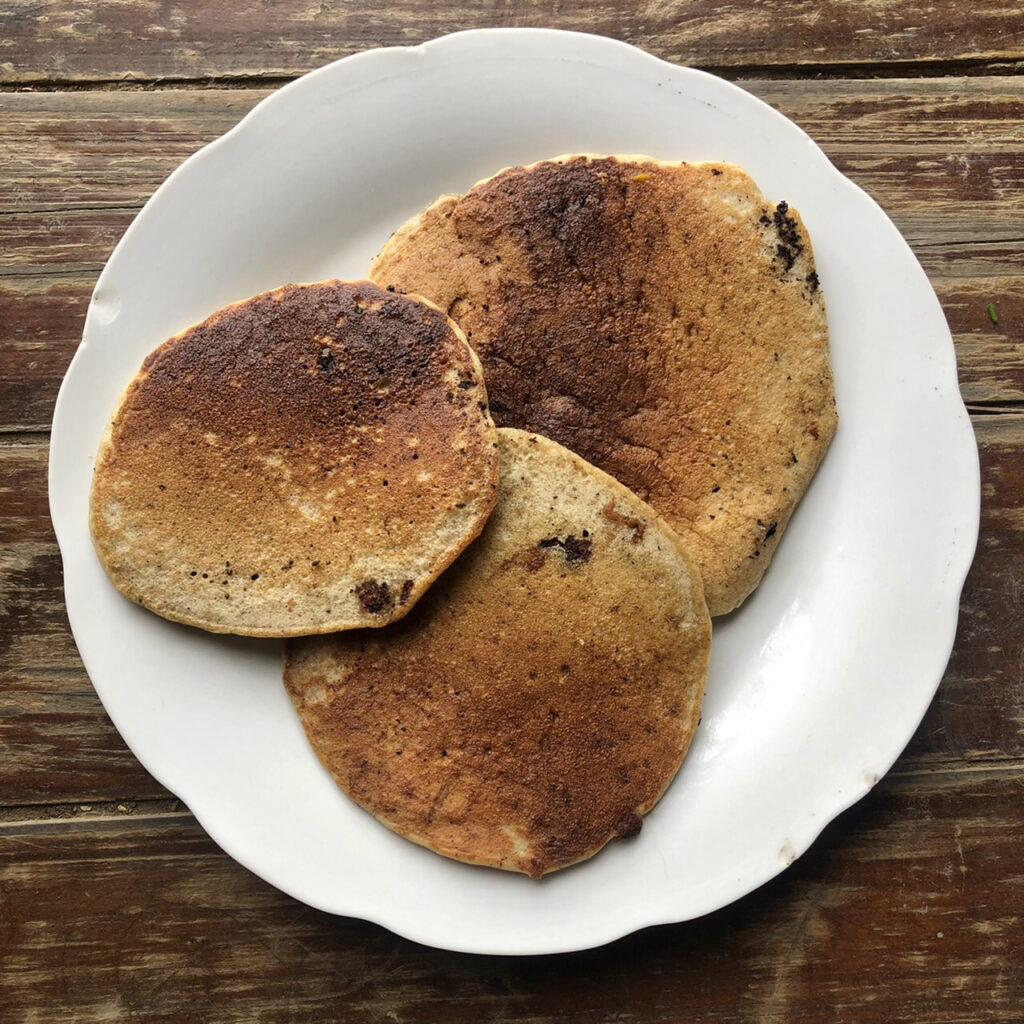 ---
References
Arnarson, Atli. "Buckwheat 101: Nutrition Facts and Health Benefits." Healthline. May 10, 2019. https://www.healthline.com/nutrition/foods/buckwheat
Petre, Alina. "How Healthy Is Sourdough? How to Make It and More." Healthline. December 20, 2021. https://www.healthline.com/nutrition/sourdough-bread#what-is-it